Read and submit reviews
Read reviews and comments

Comments and reviews by guests who have experienced a self-guided walking or cycling holiday offered by WalkingHolidays.co.za in South Africa

"Hard to beat anywhere in the world. We had a wonderful and memorable time – Overall, the holiday was invigorating – You certainly went out of your way to make the whole time memorable – We are recommending it to our walking community in the States – Fantastic walks, wines and accommodation – We had a wonderful and memorable time – It was altogether a wonderful walking holiday – exceeded our expectations in terms of beauty, convenience, and service "

Details of reviews below:

"Walking Distance- Extraordinary hikes for ordinary people"

by Robert and Martha Manning

The Cape Winelands Walk is one of 30 walks from all over the world selected by the writers. The book is available at Amazon.com

The writers conclude:

The Cape Winelands Walk is an excellent introduction to Southern Africa, its distinctive landscape, history and culture. The walk includes impressive public nature reserves with exotic plants and animals, private lands in the form of wine estates and other agricultural areas and lively and attractive towns. Our walk left us glad we had chosen this trail – and we have a strong desire to return to this part of the world.

Greyling family, Christiana, South Africa

West Coast Walk, July 2016

Translation of their review:

Thank you again for all your efforts in making our West Coast Walk such a special experience. I include a collage of our photographs. It was hard to decide what to include as there were so many beautiful moments.

For me and Johan the togetherness as a family was key. In our busy lives it is necessary to take such short breaks, spending time with family members. The advantage was that it could be in nature and away from technology! The four days were worth more than a week's "normal" holiday.

Although Ivan (9 years old) sometimes tired, one of his highlights was the scenery. He had real appreciation for the environment and enjoyed taking photos of the beautiful surroundings and little things like flowers or a bird in a tree. Thanks for adapting some of the trails for him. I know of some 9 / 8- year olds who can handle 20 km a day on trails, but children differ and for him it was a real test.

For the 16 year old Calla the route was at times a bit boring and he would have preferred more of a challenge. He, however, realised that Ivan had to be accommodated. For him one of the highlights was the delicious meals at AH! Guesthouse. Typical teenager.

Prof Bill Louden, Australia

Franschhoek Valley Walk, June 2016

Rating- 5- excellent
Description- Great location and great walking tour
Pros- Enjoyable, Great accommodation, Great experience, Well organised
Best uses- Short break
I am- World traveller
Comments- This was an excellent short break. We had several wonderful walks including in the Mont Rochelle nature reserve above Franschhoek with Siegfried – a very knowledgeable guide to the botany of the area – and another in the fynbos above the La Motte winery. The Akademie St Boutique Hotel was an excellent choice and Andries' organisation was perfect. So too were the fine dining restaurants in the village. This was part of our first visit to South Africa. We'll be back!
Recommend- Yes

Ronel Oosthuizen group (10 ladies)

West Coast Walk, May 2016

We had a fabulous week, the scenery was amazing… The incredible landscapes and views on the walks as well as the amazing flora and fauna made this a unique and wonderful experience.
The route was well planned and tailored to the needs of the group.

The accommodation was stunning and the breakfast was a feast for the eyes and a certain delight for the palate. A lovely combination.

The entire trip was magical and we loved every moment of it.
If you love nature and want to discover the beauty of the Westcoast
I would wholeheartedly recommend going on this tour.

Credit should be given to Andries who left nothing to chance and organised our walking tour with extreme professionalism. Nothing was too much trouble for Andries.
Well organized, interesting, hassle free and great fun- Walking Holidays made the trip a truly memorable experience.

I would highly recommend this company!!

Dr Jaco & Linda Jacobs, Johannesburg

Cape Winelands Walk, May 2016

Rating of holiday– 5- excellent
Description– Unique and invigorating Winelands hiking experience
Pros– Enjoyable, Great accommodation, Great experience, Well organised, See my comments below
Best uses– Relaxation, Educational, Trying something new
I am– Avid adventurer, World traveller
Comments– Andries and his team were absolutely professional, reliable and efficient from the booking to the end of the hike. They looked after each detail to make the hike most memorable.
All the routes were clearly explained and discussed. The highlight was to walk on the beautiful Lourensford Estate from Somerset West to Stellenbosch where no others hikers have the opportunity to hike. Wow!!
The accommodation was carefully selected and was wonderful after a long day in the boots.
Andreas gave excellent information on the Fynbos.
Thank you so much Andries for an unforgettable hike. We will be back to do the West Coast.
Recommend– Yes

Jody Richardson (New Zealand) and Gale Gropp (USA)

21 Day walking holiday, April 2016- Cape Town Walk, Cape Winelands Walk, Franschhoek Valley Walk, Kruger Park Safari and Drakensberg Hiking

Overall this was a fantastic holiday, probably one of our best ever. South Africa is obviously a beautiful and varied country and I feel privileged to have sampled a little bit of it. I want to thank you both for all you did for us, both arranging all our bookings and for being so responsive in the planning stages, and for being so flexible regarding day to day arrangements. All of our accommodation was well chosen and very comfortable, and I all too quickly became accustomed to those generous and delicious cooked breakfasts.

Michael Gropp (USA)

Cape Town Walk, Cape Winelands Walk and Franschhoek Valley Walk- 12 days, April 2016

My thanks for all you did to organise and guide us on our time in the Cape. I enjoyed all the places we went, things we saw, and people we met. All your accommodations were nice and your transfer arrangements went very smoothly. We were also try fortunate with the weather.
Of all our walks, my favourites were the last two days. Although it was a very hot day, I also especially enjoyed Vergelegen.

Jeremy Mathers Group

Cape Winelands Walk, 7 days, March 2016

Review by group of eleven hikers. Their tour included trails in Somerset West, Stellenbosch, Franschhoek, Kogelberg and Hermanus.

Rating of holiday: 5- excellent
Brilliant tailor made walking holiday
Pros: Enjoyable, Great accommodation, Great experience, Well organised
Comments:
Andries and his team went to lot of trouble to put together a bespoke walking holiday for our regular group of 11, incorporating some of the best bits of several trails, wonderful accommodation and perforce plenty of transfers in generally first class vehicles. They provided an excellent guide book with clear walking directions, and also met us regularly to discuss the details and make sure all was well.
Will you recommend- Yes

David Kitching and Jan Shoulders from the UK

Cape Winelands Walk, 4 days, March 2016

Holiday rating- 5- excellent
Description- A great walk through vineyards and over mountains
Pros- Enjoyable, Great accommodation, Great experience, Well organised
Best uses- Trying something new
I am- World traveller
Comments- The second day was fantastic but quite challenging in the heat. The views of the Cape were just stunning. Make sure you take plenty of water. The level of personal service is superb and the accommodation of a very high standard.
Recommend- Yes

Dr Bill and Sheelagh Holmes from Nottingham, UK

Cape Winelands Walk, 7 days, Jan 2016

Our bucket list trip to South Africa was made easy and memorable due to our reliable travel companion: walkingholidays.co.za Andries, the power behind the organisation, proved a great find before and during our adventure. Always reliable in returning calls and emails, he coped calmly with late changes to our itinerary imposed by airline dates.

The hiking plan he created for us started with an orientating walk of the Cape's ecology, "fynbos", led by a professional naturalist, and this added greatly to our enjoyment when we were alone on the hike.
Our companion throughout the hike was his manual, which directed us between locations, pointing out the important sights as we progressed. Each section contained shortening and simplifying options to allow for the experience and confidence of the walker.

More broadly, he made recommendations and bookings for some truly memorable locations to eat and rest.

Andries's help added to what was a truly great experience: we always felt he was there in the background, to be called on if needed, but never being intrusive. We have no hesitation in recommending walkingholidays.co.za.

Elena Patterson

West Coast Walk, Dec 2015

Rating of holiday: 5- excellent
Description: Unique, invigorating, well-organized, safe experience.
Pros: Enjoyable, Great accommodation, Great experience, Well organised
Best uses: Short break, Trying something new
I am : Avid adventurer, World traveller
Comments: I concur with everything in Nanette Nel's review! Our every expectation was not only met, but surpassed. Our every need was met, concerning safety, support, accommodations, logistics, instructions and expectations. BRAVO!

Nanette Nel, Johannesburg

West Coast Walk, Dec 2015

Rating- 5- excellent

Description- What a wonderful experience!

Pros- Enjoyable, Great accommodation, Great experience, Well organized.

Best uses- Trying something new

I am- Avid adventurer, World traveller

Comments- This was the first walk long walk I've done locally, and it surpassed my expectations in all possible ways.  Firstly, the organisation was exceptional – Andries handled everything, from the accommodation to the restaurant bookings, superbly, and there were no hiccups or snags. He explained the route to us, gave us a printout of tides and temperatures, and generally made sure we knew what to expect ( although day 3 proved tougher than expected ! ) He even roped in his wife, Martie, to provide cold water halfway on the route on day 2… The scenery was beautiful and the beaches pristine, with hardly a soul in sight. Accommodation was wonderfully comfortable with hot showers (essential after a long day's walk) and the restaurants in Paternoster provide meals for any taste. The Noisy Oyster comes highly recommended, as does Arnold's long table at the quirky Ah! Guesthouse. Don't miss either!

Recommend- Yes

Teresa Wincrantz group from the UK

Cape Highlights :

Cape Town, Franschhoek and Hermanus, Nov 2015

Andries and his team was tremendously helpful in supporting us for our holiday trip to South Africa for 8 days in November. 
Not only did they help us to plan the whole trip with walks, hotels etc. and provided suggestions on a suitable schedule, that also were super helpful on the grounds and really went out of their way make our stay truly amazing.

We had a full schedule which included waking up Table Mountain, visiting the vineyards of Franschhoek, drove down to Cape Point, saw penguins and spent time at the beach in Hermanus. A very diverse 8 days !

We had such a great time in South Africa and Andries kept checking up on us regularly to make sure that everything was ok and that we had everything we needed. 

We can most highly recommend "Walking Holidays" to help plan your trip to South Africa.

Mark and Ann Haysom from the UK

Cape Winelands Walk, 4 days, Sep 2015

Rating- 5- excellent
Description- Unforgettable
Pros- Enjoyable, Great experience, Well organised, See my comments below
This was our third visit to South Africa – but our first to properly explore the Winelands. And there could have been no better introduction to this beautiful region than the Cape Winelands Walk. From start to finish it was a wonderful, compelling experience. We were blessed with perfect walking weather; the spring flowers were in bloom; the scenery ranged from majestic to gentle; the wines were outstanding; the whole trip was excellently organised; Andries could not have been more helpful. Simply unforgettable.
Recommend- Yes

Ariel Silver and family, USA

Cape Winelands Cycling, 4 days, Aug 2015 (We also arranged hikes and tours in Cape Town, Johannesburg and the Blyde River Canyon for the group)

First of all, I just wanted to say thank you. I want you to know that I had an amazing time in your country and was sorry to go.  Whenever I return from trips such as this one, I always feel changed for the better, and this trip was no exception.
The Cape Winelands Cycling tour was a carefully planned, intricately designed journey through the one of the most stunning areas of South Africa. We received our beautifully thought out booklets, detailing our routes with well constructed maps and directions. These booklets also included innumerable recommendations of vineyards and other great places to stop on our relaxed bike trips. One great thing about the routes, specifically, was their flexibility. You could really do anything you wanted, so long as you got to next hotel, where your luggage would be shipped without fail by taxi. Many of the trips we biked we shortened in order to spend a lot of our day at vineyards, tasting wine. We stopped at a maximum of three vineyards per day trip, even though our four-day quest took us through some of the most famous vineyards in South Africa, in the towns of Franschhoek, Stellenbosch, and Somerset West. We chose to stop at those great vineyards that specialized in other things besides great wine, chocolate and olive oil, for instance. I can truthfully say that every stop we made resulted in a worthwhile experience. Not only were the stops fantastic, but also the biking was set in a beautiful area, with sloping mountains and luscious greenery surrounding us. By the end of our four days I was immensely happy and sorry to leave at the same time.
This was an experience that I will not soon forget. Thank you.

Louise Du Plessis group, Stellenbosch

West Coast Walk, 4 days, Aug 2015

We had a fantastic weekend. At both guesthouses we received a warm welcome and it was clear that everything is organized and in place. Breakfast at AH! was very special. For future groups I recommend Arnold's long table dinner – instead to eating out.
The walk was a wonderful experience. Fantastic weather with beautiful sunshine and cool days. The route booklet was very helpful and the directions were clear. We found our way without any difficulty. We encountered high tide and the beach walk was a good challenge. The courier company went out of their way to transfer our vehicles for our convenience, at a minimal extra fee. It was an unforgettable hikingr experience for all of us- both experienced hikers and beginners. All of us have wonderful memories of the West Coast Walk. Thank you for your effort and help, it was a pleasure to deal with you!

Tom Edwards and Susan Lubman-Edwards

Cape Highlights- 15 day walk in Cape Town and the Winelands

Rating- 5- excellent
Description- 9 out of 10 Delightful Holiday- Good Walking, Good Lodging,Good Food, and Good Wine
Pros- Enjoyable, Great accommodation, Great experience, Well organised, See my comments below
Cons- See my comments below
Best uses- Relaxation, Educational, Trying something new
I am- World traveller
Comments- Pros – Andries provided continuous personal attention. We met Andries or e-mailed with him every day of our trip where he relayed additional information and changes/updates to our itinerary. Walking directions were clear with a few notable exceptions which will be sent separately. Kirstenbosch is educational and gorgeous. Nursery Ravine route to Table Mountain and cable car was challenging, scenic, and hot. Lovely walk from V&A Waterfront to Camp's Bay.

Beautiful hike over the saddle from Lourensford to Dornier Winery. Cecelia, our nature guide at Helderberg, was very knowledgeable and pleasant. We only had time to visit Vergelegen after wine tasting and lunch at Lourensford. Interesting history and gardens at Vergelegen – ancient trees.

Pleasant walk from Dornier to Stellenbosch. We had a good amount of time to sightsee and shop. We ate at Oppie Dorp and D'Ouwe Werf Hotel. Both were excellent. We suggest that you recommend to clients that they visit the large Information Center. There is a shop stocked with products made by local entrepeneurs. We enjoyed visiting the SASOL Gallery, Botanical Gardens, Village Museum, and Stellenbosch University grounds. Shopping in Stellenbosch is a real value! Izak Rust gave an excellent tour of Mont Rochelle.

We had a very relaxing time in Franschoek shopping and visiting wineries. The La Motte Winery hiking trail was a wonderful hike – lots of baboons visible at a safe distance. Even though the museum is typically closed on Mondays, Andries was able to arrange for a personal tour – Very interesting history of the farm and the region. We spent a pleasant and relaxing afternoon at the Rickety Bridge restaurant, winery, and manor house.

We had an easy transfer to Cape Town where we picked up a rental car and headed to Betty's Bay. Hans and his daughter took us to visit the penguin colony, a highlight (that's a lot of cute penguins) and we discussed the recent fire, its effect on the fynbos, and other Kogelsberg hiking
options. We had a delicious dinner at Bistro 365 in Pringle Bay. We hiked Leopard's Kloof in the Harold Porter Botanical Garden and toured the grounds – lovely waterfalls and interesting fynbos gardens.

We drove to Hermanus and were met by Malcolm who took us on a driving reconnaissance of our walking itinerary for the next three days. He provided photographic guides to key decision points on the hikes which were very helpful and gave us a wealth of other printed material about the history and sights in Hermanus. The Fernkloof hike was beautiful with lots of bird activity. Malcolm accompanied us from the hotel to the start of Elephant Path We travelled the contour path and then took the red route to the waterfall before heading to the visitor center where we walked down to the cliff path and strolled from Kwaaiwater to Auberge Burgundy. We had an excellent dinner at Lemon Butta and enjoyed a magnificent sunset over the ocean from our dinner table. The contour hike to Voelklip was lovely and cool with lots of birdlife and evidence of baboon activity, although we never saw baboons. We concluded the hiking by completing the cliff path from the milkwood forest to Kwaaiwater where Malcolm picked us up and returned us to the Auberge Burgundy.

Andries had arranged for an addition to our itinerary. We drove to Kleinbaai for Shark Cage Diving where we spent a fun and exciting day on the water and in the water with six sharks – awesome fun! We had a marvelous late afternoon dinner at Lizette's Kitchen where we bumped into Malcolm riding his bicycle to the beach for a swim. Bottom line – as the title suggests, we enjoyed every day immensely with very few glitches. We received far more support and personal attention than we had expected.

Cons – We had a few points of confusion regarding the hiking instructions and will offer improved instructions separately. Our arrangements on Day 12 had to be altered as many itinerary items were closed on Monday. It seems this could have been anticipated. Andries informed us of changes in his daily updates and we did have alternative arrangements. The route guide was not completely personalized. In some places, the maps had been reused from other or earlier itineraries and were not completely correct. Cape Town is not completely safe for tourists on the walking routes we were recommended. Future clients should be advised to take precautions while walking within the city.
Recommend- Yes

Franschhoek Divas (Group of 20 ladies)

4 days- Franschhoek Valley Walk- March 2015

Translation of comments by the organiser, Cora Nel, 25 March 2015 https://www.facebook.com/walkingholidays.co.za/

Thank you Andries for a wonderful experience! The Divas enjoyed it tremendously. Some highlights were the Cats Pass which tested our endurance, the delicious gourmet restaurant and bubbly at Haute Cabriere, the wine blending and creation of our own "masterblend" at Rickety Bridge, the spectacular trail at La Motte and wine tasting at La Motte and Leopards Leap. It was an experience that we will always remember! I can recommend Franschhoek Valley Walk to anyone who loves wine, outdoors and scenery.

 Anthony Percival and Hunter Hogan

4 days- West Coast Walk- February 2015

Rating- 5- excellent

Description- fantastic
Pros- Enjoyable, Great accommodation, Great experience, Well organised, See my comments below
Cons-
Best uses- Trying something new
I am- World traveller
Comments- Andries is a superb organiser. Every last detail was well taken care of. Nothing was ever to much trouble. Always on time and made all our dinner reservations. The walk beautiful and hiker friendly and very safe. I make a habit of writing reviews not always this glowing. What a pleasure to have someone really good,and make sure there product works. highly recommened
Recommend- Yes

Andrew and Amanda Hartley

4 days- West Coast Walk- January 2015

Andrew and I thoroughly enjoyed the whole of our trip to South Africa and it ended beautifully with the fabulous walk where my favourite place had to be Paternoster.

We started at Oystercatcher Lodge, which was very pleasant ( other than a creaking bed!).The evening meal at the local hotel was disappointingly average and maybe we could have driven somewhere else? However even though it was a grey day on the first walking day it was very exhilarating with the noise and spray from a lively ocean, and the rugged coast reminded us of our
holiday to Namibia. Finishing our days walk at Paternoster, a little gem -Especially as you said to stop off at the beach restaurant-a dangerous thing to do! What an amazing fish restaurant with great wine.

We continued a walk through the old fishing town, which sparkles against the ocean and arrive at the fabulous Gilpins Lodge, a thatched guest house with great hosts, a lovely room and tasty breakfast. We had 2 lovely days walking from there, both different, both HOT. Even though I am not an avid bird watcher, the variety was amazing. Walking on the sandy beach with triffid size seaweed or the vast shell beaches was great. We came across several barbque areas which were being tidied up but we came across very few people on our walk.
The last day took us to another picturesque place called Jacobsbaai and we finished at another lovely guest house. A fab time.

We go to Spain shortly where I shall give my friend your details, otherwise
I hope we shall have the pleasure of another of your walks next year, whoop woo!

Andrew and Tim Levett, UK

4 days- Cape Winelands Walk- Dec 2014

Comments- Firstly a huge thanks to Andries who organised everything to perfection and bent over backwards to accommodate all our requests.

We did the 4 day Cape Winelands. The first day of walking (Day 2 in the itinerary) was adapted for us so that we could also climb West Peak (1000m and 6 hours walking. Andries organised us a guide and the walk provided beautiful views over the Cape and satisfyingly challenging. I think the normal itinerary for day 2 without the climb would have been short and dull.

Day 3 of the itinerary was fantastic. Incredible scenery, good variety of flat and climbing and we had the path to ourselves. It took us around 4.5 hours to complete. Finishing at Dornier wine estate for lunch was a real treat.

Day 4 of the itinerary was a bit of a let down. The path zig zagged along roads and dirt paths close to Stellenbosch. Because there was very little climbing and the route stayed close to the town it never really provided any interest. As a result we chose to tag on a climb up one of the smaller hills around Stellenbosch. What's more, it only took us 2 hours to walk. We spoke to Andries about this who took our feedback on board and indicated that he was formulating other days hikes from Stellenbosch as alternatives.

Overall, we had a fantastic time and would highly recommend the trip. If you are a fit and ambitious hiker it is worth talking to Andries in advance to tailor your itinerary accordingly. Recommended.

A short note on the two hotels – both was excellent
Recommend- Yes

Overall rating- 4- very good

 Ute & Reinhard Haenisch, Namibia

4 days- Cape Winelands Walk- November 2014

Just to let you know that we are safely back in Windhoek. Thanks again for exceeding our expectations and for making this experience successful and unforgettable for us!
Have a look at the amazing panoramic picture taken from the top of the mountain.

 Botha Group, South Africa

4 days- West Coast Walk, Oct 2014

Hiermee om jou te bedank vir 'n heerlike en uitstekende stap.

Julle het 'n puik produk wat nog 'n groot aanvraag gaan raak in die toekoms.

Martin Martins, South Africa

4 days- West Coast Walk- June 2014

Personally found second day (1st walking day) too long. Feel it should be divided into two days, respectively 10 and 12 km. Saw very pristine stretches of beach that is only possible on foot. All in all it was a very enjoyable experience, one which we will definitely do again. Thank you Andries for all your personal attention and organising. Much appreciated.

Hennie and Xandra du Plessis, South Africa

4 days- Cape Winelands Walk- April 2014

Dit was n baie spesiale belewenis en ons het dit vreeslik geniet. Baie baie dankie vir die moeite en al die reelings.

Auret and Jill Kernick, Johannesburg

4 days – Cape Winelands Walk- March 2014


Expectations were surpassed – the area is pristine. It varies from remote wilderness to farm to town, with some world class restaurants thrown in and warm hospitality all the way. Andries saw us on our way and looked after us, even facilitating our doing the last days walk a day late to bypass some bad weather. We cannot recommend the walk highly enough.

Karen and Andrew Shewbart, USA

8 days – Cape Winelands Walk and Franschhoek Valley Walk- Feb 2014


Our walk through the Cape Winelands was magnificent.  The holiday plan arranged by Walking Holidays exceeded our expectations in terms of beauty, convenience, and service.  The walks selected for us were challenging, but enjoyable; exactly what we wanted.  The special attention provided by the staff, specifically Andries, made the journey all the more memorable.  I would highly recommend anyone interested in exploring the natural beauty of South Africa and the first-rate wine and cuisine this area has to offer book a holiday with this outstanding outfit.

Carol Hagemann-White, Germany

21 days – Cape Town Walk, Cape Winelands Walk, Franschhoek Valley Walk, Hermanus Walk, Kogelberg and Cape Town guided tour- Dec 2013

It was altogether a wonderful walking holiday and, at the same time, introduction to South Africa. Some highlights were: the hike up Table Mountain; all of the walks with expert guides that truly enriched our experience, but especially the walk with Isak; the high quality and personal hospitality in the guest houses (Klein Bosheuwel was a perfect starting point with Tim's hospitality as well as the beautiful surroundings!); walking the contour paths in Helderberg mountain and in Hermanus, and of course so many excellent meals in different restaurants that I couldn't list them all.

It was quite a new experience to be "taken care of" throughout the trip –in Europe, where self-guided walking has a long tradition, the tour organizers send detailed information in advance, including arrangements to have the luggage transported from place to place, but once you begin your holiday, you are on your own. The assumption is that, if you wanted a local guide you would have booked a group tour. So it was quite unexpected, but extremely helpful and a great pleasure, to be met and guided by you, Izak, Hans, Andreas and Malcolm, including very enjoyable conversations as well as useful help. We were particularly impressed that you and Malcolm had actually gone up and marked the path at the end of the second Fernkloof walk with red dots and stone beacons (so it was very easy to find!).

We also thoroughly enjoyed the two-and-a-half day private tour with Jo; it gave us an excellent overview as well as "winding down" from the walking. We ended the trip on our last day with a long, long walk along the beach in Milnerton.

Overall, nothing went wrong or caused us any Angst or distress.

Hugh and Sue Drummond, Pietermaritzburg

Cape Winelands Walk- 7 Nov 2013

We had a wonderful and memorable time, it's a pity we had to cut short the third day, but as it happens the timing with the weather was perfect.

The opportunity to see the flora and the scenery was very special for us, and I think that the time spent with Andreas definitely added value to the experience for us. The whole trip, from Somerset West through Lourensford over the Helderberg and into Stellenbosch is hard to beat anywhere in the world, and you may use this as a reference to all who may enquire. I would like to say a special word of thanks to you personally for your help and your readiness to go the extra mile to make our trip so successful.

Andries your passion for this hike is to be commended- Sue

Danika Marquis, Grahamstown 


Cape Winelands Walk- Dec 2012

My husband and I have 'slack-packed' in the wine regions of France and Chile before, and wished we could find something similar closer to home, but never found the time or the right guide. It was serendipitous that Women & Home's article "Do More of What You Love", which showcased a walking holiday in the Cape Winelands, came at during a very stressful time in my life. It was, in fact, my husband who was inspired by Women & Home to take me on a walking holiday – he was looking for ways to help me de-stress and help us reconnect after a tough year.

The experience itself was magical. We chose a 4 night – 3 day walking tour through walkingholidays.co.za, which started in scenic Somerset West and ended in historic Stellenbosch. We were greeted at Erinvale Estate Hotel by a complimentary bottle of wine and our guide, Andries Liebenberg, who gave us our guidebooks and instructions.

The first day of walking, which was around 10km in total, took us through a guided tour of the Helderberg Nature Reserve, where our guide showed us the different flora and fauna that we could expect in the following days of walking. In the afternoon, we headed off to two of the local wine estates – Lourensford Estate for chocolate and wine tasting after lunch, and then Vergelegen with its colourful history. It is hard not to feel like Elizabeth Bennett entering Pemberley when walking across the expansive grounds of Vergelegen, with its avenues of trees, octagonal garden and beautiful estate house. I briefly wondered whether we would reach the wine tasting before dark, which we fortunately did, but I wish that I had given myself an additional two-hours to explore the grounds and historic buildings.

The second day of walking was a fairly challenging, but breath-taking, 20km walk over the Helderberg Mountains from Lourensford in Somerset West to Dornier Estate, just outside Stellenbosch. The paths were good and the views along the walk were spectacular. The best view was at the picnic spot set at the highest point of the climb. At the end of the walk, another wine tasting and a comfortable stay at the Dornier's Homestead (which was designed by Sir Herbert Baker) awaited.

On the third day, we had to contend with a freakishly strong South Easterly wind that had blown down a dozen or more trees along the route, making it difficult to walk along the designated path. We therefore opted to drive the final part with our guide, who took us to another wine tasting and then through to Stellenbosch.

Overall, the holiday was invigorating and Andries Liebenberg at walkingholidays.co.za was a superb guide and made our trip very special. Thank you Women & Home for the inspiration!

*Slack-packing is essentially backpacking for people who like adventure but really like comfortable beds, decent meals and warm baths. Otherwise put, it is walking holiday where your luggage is transported by a 3rd party to a 3 – 5 star B&B each night, as opposed to contending with sleeping bags, tinned food, cold showers and walking with a heavy backpack. Sorry, I tend to ramble a bit, but it was a fantastic experience.

Woman and Home –Article in the Nov 2012 issue :

Do more of what you love….Daycations and more

Enjoy a walking holiday along the Cape Winelands with overnight stops in fab accommodation along the way, and your bags transported ahead.The seven-day 100km walk from Somerset West to Stellenbosch takes you through exquisite wine estates and nature reserves to scenic country roads. From R5 880pp; October to March is best, as the weather is more predictable.


Gillan and Susan, Vancouver 

Cape Winelands Walk– Feb 2012

Dear Andries, Thank you so much for sending those lovely photos of us and the leopard. Susan will enjoy them too, I know!She emailed me on her safe return to Canada but that was before you sent the pictures.I will check with her that she got them.Thank you also for your kindness to us during our trip – you certainly went out of your way to make the whole time memorable and we appreciated the "extras" very much.I have given your name and email address to a friend who is keen to know more about the hike and she will be contacting you soon.Her name is Anja Sandeman, and either she, or her colleague/friend will be contacting you for more information.Keep well and thanks once again!Best wishes,Gillan Bowie

Robert E Manning, Burlington, USA

Cape Winelands Walk– Dec 2010


I wanted to tell you how much Martha and I enjoyed our Cape Winelands Walk in December.  We found the history and culture of the wineland region to be fascinating – our visits to the beautiful and impressive Lourensford and Dornier Wine Estates were highlights of the trip.  And the historic town of Stellenbosh, with its stately oaks, impressive university, and lively downtown, made for a great place to stay.  The walk also had an appealing "wild side" to it – the impressive Hottentot Holland Mountains, the biologically rich expanses of fynbos vegetation, and the Jonkershoek and Helderberg Nature Reserves.  We genuinely appreciated your attentiveness to our every need.  As you know, Martha and I have had the privilege of doing walks all over the world, and the Cape Winelands Walk is one of our favorites.  We're recommending it to our walking community in the States.Thanks again for everything you did to make our walk so special!

Steve and Kristenne,UK


Cape Winelands Walk– Aug 2010

General

Fantastic walks, wines and accommodation

Great private paths

Comments per sms to the Route Manager, at the end of 2 of the days:

Another great day yesterday, fantastic views from mountain, off to nature reserve soon

We had another good day today the van Zyl's (Kierie Kwaak) looked after us very well and we are now warming up at Rozendal

Joanna, Cape Town 


Cape Winelands Walk- 7 Apr 2010

We found the directions easy to follow but were tempted on walking straight over the mountain, but realized for tourists who don't know the mountain, it may be quite risky.
The cement table and chair on top of the mountain is an attractive feature.
The guest house in Blaauwklippen Valley was beautiful. It was great to have a swimming facility.
We really enjoyed this hike. Very easy to follow directions. The views from Square Tower North over Jonkershoek, Pniel, Boschendal, Simonsberg etc were amazing, we could see right through to Lions Head and Signal Hill.
Guest house in Jonkershoek was lovely with very good breakfast.

Review a holiday

Rate hotels/Guest houses

Go back to the top of the Reviews page

yle="margin-bottom: 0cm; padding-left: 30px;">
Read and submit reviews
Read reviews and comments
Comments and reviews by guests who have experienced a self-guided walking or cycling holiday offered by WalkingHolidays.co.za in South Africa
"Hard to beat anywhere in the world. We had a wonderful and memorable time – Overall, the holiday was invigorating – You certainly went out of your way to make the whole time memorable – We are recommending it to our walking community in the States – Fantastic walks, wines and accommodation – We had a wonderful and memorable time – It was altogether a wonderful walking holiday – exceeded our expectations in terms of beauty, convenience, and service "
Details of reviews below:
"Walking Distance- Extraordinary hikes for ordinary people"
by Robert and Martha Manning
The Cape Winelands Walk is one of 30 walks from all over the world selected by the writers. The book is available at Amazon.com
The writers conclude:
The Cape Winelands Walk is an excellent introduction to Southern Africa, its distinctive landscape, history and culture. The walk includes impressive public nature reserves with exotic plants and animals, private lands in the form of wine estates and other agricultural areas and lively and attractive towns. Our walk left us glad we had chosen this trail – and we have a strong desire to return to this part of the world.
Greyling family, Christiana, South Africa
West Coast Walk, July 2016
Translation of their review:
Thank you again for all your efforts in making our West Coast Walk such a special experience. I include a collage of our photographs. It was hard to decide what to include as there were so many beautiful moments.

For me and Johan the togetherness as a family was key. In our busy lives it is necessary to take such short breaks, spending time with family members. The advantage was that it could be in nature and away from technology! The four days were worth more than a week's "normal" holiday.

Although Ivan (9 years old) sometimes tired, one of his highlights was the scenery. He had real appreciation for the environment and enjoyed taking photos of the beautiful surroundings and little things like flowers or a bird in a tree. Thanks for adapting some of the trails for him. I know of some 9 / 8- year olds who can handle 20 km a day on trails, but children differ and for him it was a real test.

For the 16 year old Calla the route was at times a bit boring and he would have preferred more of a challenge. He, however, realised that Ivan had to be accommodated. For him one of the highlights was the delicious meals at AH! Guesthouse. Typical teenager.
Prof Bill Louden, Australia
Franschhoek Valley Walk, June 2016
Rating- 5- excellent
Description- Great location and great walking tour
Pros- Enjoyable, Great accommodation, Great experience, Well organised
Best uses- Short break
I am- World traveller
Comments- This was an excellent short break. We had several wonderful walks including in the Mont Rochelle nature reserve above Franschhoek with Siegfried – a very knowledgeable guide to the botany of the area – and another in the fynbos above the La Motte winery. The Akademie St Boutique Hotel was an excellent choice and Andries' organisation was perfect. So too were the fine dining restaurants in the village. This was part of our first visit to South Africa. We'll be back!
Recommend- Yes
Ronel Oosthuizen group (10 ladies)
West Coast Walk, May 2016
We had a fabulous week, the scenery was amazing… The incredible landscapes and views on the walks as well as the amazing flora and fauna made this a unique and wonderful experience.
The route was well planned and tailored to the needs of the group.

The accommodation was stunning and the breakfast was a feast for the eyes and a certain delight for the palate. A lovely combination.

The entire trip was magical and we loved every moment of it.
If you love nature and want to discover the beauty of the Westcoast
I would wholeheartedly recommend going on this tour.

Credit should be given to Andries who left nothing to chance and organised our walking tour with extreme professionalism. Nothing was too much trouble for Andries.
Well organized, interesting, hassle free and great fun- Walking Holidays made the trip a truly memorable experience.

I would highly recommend this company!!
Dr Jaco & Linda Jacobs, Johannesburg
Cape Winelands Walk, May 2016
Rating of holiday– 5- excellent
Description– Unique and invigorating Winelands hiking experience
Pros– Enjoyable, Great accommodation, Great experience, Well organised, See my comments below
Best uses– Relaxation, Educational, Trying something new
I am– Avid adventurer, World traveller
Comments– Andries and his team were absolutely professional, reliable and efficient from the booking to the end of the hike. They looked after each detail to make the hike most memorable.
All the routes were clearly explained and discussed. The highlight was to walk on the beautiful Lourensford Estate from Somerset West to Stellenbosch where no others hikers have the opportunity to hike. Wow!!
The accommodation was carefully selected and was wonderful after a long day in the boots.
Andreas gave excellent information on the Fynbos.
Thank you so much Andries for an unforgettable hike. We will be back to do the West Coast.
Recommend– Yes
Jody Richardson (New Zealand) and Gale Gropp (USA)
21 Day walking holiday, April 2016- Cape Town Walk, Cape Winelands Walk, Franschhoek Valley Walk, Kruger Park Safari and Drakensberg Hiking
Overall this was a fantastic holiday, probably one of our best ever. South Africa is obviously a beautiful and varied country and I feel privileged to have sampled a little bit of it. I want to thank you both for all you did for us, both arranging all our bookings and for being so responsive in the planning stages, and for being so flexible regarding day to day arrangements. All of our accommodation was well chosen and very comfortable, and I all too quickly became accustomed to those generous and delicious cooked breakfasts.
Michael Gropp (USA)
Cape Town Walk, Cape Winelands Walk and Franschhoek Valley Walk- 12 days, April 2016
My thanks for all you did to organise and guide us on our time in the Cape. I enjoyed all the places we went, things we saw, and people we met. All your accommodations were nice and your transfer arrangements went very smoothly. We were also try fortunate with the weather.
Of all our walks, my favourites were the last two days. Although it was a very hot day, I also especially enjoyed Vergelegen.
Jeremy Mathers Group
Cape Winelands Walk, 7 days, March 2016
Review by group of eleven hikers. Their tour included trails in Somerset West, Stellenbosch, Franschhoek, Kogelberg and Hermanus.
Rating of holiday: 5- excellent
Brilliant tailor made walking holiday
Pros: Enjoyable, Great accommodation, Great experience, Well organised
Comments:
Andries and his team went to lot of trouble to put together a bespoke walking holiday for our regular group of 11, incorporating some of the best bits of several trails, wonderful accommodation and perforce plenty of transfers in generally first class vehicles. They provided an excellent guide book with clear walking directions, and also met us regularly to discuss the details and make sure all was well.
Will you recommend- Yes
David Kitching and Jan Shoulders from the UK
Cape Winelands Walk, 4 days, March 2016
Holiday rating- 5- excellent
Description- A great walk through vineyards and over mountains
Pros- Enjoyable, Great accommodation, Great experience, Well organised
Best uses- Trying something new
I am- World traveller
Comments- The second day was fantastic but quite challenging in the heat. The views of the Cape were just stunning. Make sure you take plenty of water. The level of personal service is superb and the accommodation of a very high standard.
Recommend- Yes
Dr Bill and Sheelagh Holmes from Nottingham, UK
Cape Winelands Walk, 7 days, Jan 2016
Our bucket list trip to South Africa was made easy and memorable due to our reliable travel companion: walkingholidays.co.za Andries, the power behind the organisation, proved a great find before and during our adventure. Always reliable in returning calls and emails, he coped calmly with late changes to our itinerary imposed by airline dates.

The hiking plan he created for us started with an orientating walk of the Cape's ecology, "fynbos", led by a professional naturalist, and this added greatly to our enjoyment when we were alone on the hike.
Our companion throughout the hike was his manual, which directed us between locations, pointing out the important sights as we progressed. Each section contained shortening and simplifying options to allow for the experience and confidence of the walker.

More broadly, he made recommendations and bookings for some truly memorable locations to eat and rest.

Andries's help added to what was a truly great experience: we always felt he was there in the background, to be called on if needed, but never being intrusive. We have no hesitation in recommending walkingholidays.co.za.
Elena Patterson
West Coast Walk, Dec 2015
Rating of holiday: 5- excellent
Description: Unique, invigorating, well-organized, safe experience.
Pros: Enjoyable, Great accommodation, Great experience, Well organised
Best uses: Short break, Trying something new
I am : Avid adventurer, World traveller
Comments: I concur with everything in Nanette Nel's review! Our every expectation was not only met, but surpassed. Our every need was met, concerning safety, support, accommodations, logistics, instructions and expectations. BRAVO!
Nanette Nel, Johannesburg
West Coast Walk, Dec 2015
Rating- 5- excellent

Description- What a wonderful experience!

Pros- Enjoyable, Great accommodation, Great experience, Well organized.

Best uses- Trying something new

I am- Avid adventurer, World traveller

Comments- This was the first walk long walk I've done locally, and it surpassed my expectations in all possible ways.  Firstly, the organisation was exceptional – Andries handled everything, from the accommodation to the restaurant bookings, superbly, and there were no hiccups or snags. He explained the route to us, gave us a printout of tides and temperatures, and generally made sure we knew what to expect ( although day 3 proved tougher than expected ! ) He even roped in his wife, Martie, to provide cold water halfway on the route on day 2… The scenery was beautiful and the beaches pristine, with hardly a soul in sight. Accommodation was wonderfully comfortable with hot showers (essential after a long day's walk) and the restaurants in Paternoster provide meals for any taste. The Noisy Oyster comes highly recommended, as does Arnold's long table at the quirky Ah! Guesthouse. Don't miss either!

Recommend- Yes
Teresa Wincrantz group from the UK
Cape Highlights :
Cape Town, Franschhoek and Hermanus, Nov 2015
Andries and his team was tremendously helpful in supporting us for our holiday trip to South Africa for 8 days in November. 
Not only did they help us to plan the whole trip with walks, hotels etc. and provided suggestions on a suitable schedule, that also were super helpful on the grounds and really went out of their way make our stay truly amazing.

We had a full schedule which included waking up Table Mountain, visiting the vineyards of Franschhoek, drove down to Cape Point, saw penguins and spent time at the beach in Hermanus. A very diverse 8 days !

We had such a great time in South Africa and Andries kept checking up on us regularly to make sure that everything was ok and that we had everything we needed. 

We can most highly recommend "Walking Holidays" to help plan your trip to South Africa.
Mark and Ann Haysom from the UK
Cape Winelands Walk, 4 days, Sep 2015
Rating- 5- excellent
Description- Unforgettable
Pros- Enjoyable, Great experience, Well organised, See my comments below
This was our third visit to South Africa – but our first to properly explore the Winelands. And there could have been no better introduction to this beautiful region than the Cape Winelands Walk. From start to finish it was a wonderful, compelling experience. We were blessed with perfect walking weather; the spring flowers were in bloom; the scenery ranged from majestic to gentle; the wines were outstanding; the whole trip was excellently organised; Andries could not have been more helpful. Simply unforgettable.
Recommend- Yes
Ariel Silver and family, USA
Cape Winelands Cycling, 4 days, Aug 2015 (We also arranged hikes and tours in Cape Town, Johannesburg and the Blyde River Canyon for the group)
First of all, I just wanted to say thank you. I want you to know that I had an amazing time in your country and was sorry to go.  Whenever I return from trips such as this one, I always feel changed for the better, and this trip was no exception.
The Cape Winelands Cycling tour was a carefully planned, intricately designed journey through the one of the most stunning areas of South Africa. We received our beautifully thought out booklets, detailing our routes with well constructed maps and directions. These booklets also included innumerable recommendations of vineyards and other great places to stop on our relaxed bike trips. One great thing about the routes, specifically, was their flexibility. You could really do anything you wanted, so long as you got to next hotel, where your luggage would be shipped without fail by taxi. Many of the trips we biked we shortened in order to spend a lot of our day at vineyards, tasting wine. We stopped at a maximum of three vineyards per day trip, even though our four-day quest took us through some of the most famous vineyards in South Africa, in the towns of Franschhoek, Stellenbosch, and Somerset West. We chose to stop at those great vineyards that specialized in other things besides great wine, chocolate and olive oil, for instance. I can truthfully say that every stop we made resulted in a worthwhile experience. Not only were the stops fantastic, but also the biking was set in a beautiful area, with sloping mountains and luscious greenery surrounding us. By the end of our four days I was immensely happy and sorry to leave at the same time.
This was an experience that I will not soon forget. Thank you.
Louise Du Plessis group, Stellenbosch
West Coast Walk, 4 days, Aug 2015
We had a fantastic weekend. At both guesthouses we received a warm welcome and it was clear that everything is organized and in place. Breakfast at AH! was very special. For future groups I recommend Arnold's long table dinner – instead to eating out.
The walk was a wonderful experience. Fantastic weather with beautiful sunshine and cool days. The route booklet was very helpful and the directions were clear. We found our way without any difficulty. We encountered high tide and the beach walk was a good challenge. The courier company went out of their way to transfer our vehicles for our convenience, at a minimal extra fee. It was an unforgettable hikingr experience for all of us- both experienced hikers and beginners. All of us have wonderful memories of the West Coast Walk. Thank you for your effort and help, it was a pleasure to deal with you!
Tom Edwards and Susan Lubman-Edwards
Cape Highlights- 15 day walk in Cape Town and the Winelands
Rating- 5- excellent
Description- 9 out of 10 Delightful Holiday- Good Walking, Good Lodging,Good Food, and Good Wine
Pros- Enjoyable, Great accommodation, Great experience, Well organised, See my comments below
Cons- See my comments below
Best uses- Relaxation, Educational, Trying something new
I am- World traveller
Comments- Pros – Andries provided continuous personal attention. We met Andries or e-mailed with him every day of our trip where he relayed additional information and changes/updates to our itinerary. Walking directions were clear with a few notable exceptions which will be sent separately. Kirstenbosch is educational and gorgeous. Nursery Ravine route to Table Mountain and cable car was challenging, scenic, and hot. Lovely walk from V&A Waterfront to Camp's Bay.

Beautiful hike over the saddle from Lourensford to Dornier Winery. Cecelia, our nature guide at Helderberg, was very knowledgeable and pleasant. We only had time to visit Vergelegen after wine tasting and lunch at Lourensford. Interesting history and gardens at Vergelegen – ancient trees.

Pleasant walk from Dornier to Stellenbosch. We had a good amount of time to sightsee and shop. We ate at Oppie Dorp and D'Ouwe Werf Hotel. Both were excellent. We suggest that you recommend to clients that they visit the large Information Center. There is a shop stocked with products made by local entrepeneurs. We enjoyed visiting the SASOL Gallery, Botanical Gardens, Village Museum, and Stellenbosch University grounds. Shopping in Stellenbosch is a real value! Izak Rust gave an excellent tour of Mont Rochelle.

We had a very relaxing time in Franschoek shopping and visiting wineries. The La Motte Winery hiking trail was a wonderful hike – lots of baboons visible at a safe distance. Even though the museum is typically closed on Mondays, Andries was able to arrange for a personal tour – Very interesting history of the farm and the region. We spent a pleasant and relaxing afternoon at the Rickety Bridge restaurant, winery, and manor house.

We had an easy transfer to Cape Town where we picked up a rental car and headed to Betty's Bay. Hans and his daughter took us to visit the penguin colony, a highlight (that's a lot of cute penguins) and we discussed the recent fire, its effect on the fynbos, and other Kogelsberg hiking
options. We had a delicious dinner at Bistro 365 in Pringle Bay. We hiked Leopard's Kloof in the Harold Porter Botanical Garden and toured the grounds – lovely waterfalls and interesting fynbos gardens.

We drove to Hermanus and were met by Malcolm who took us on a driving reconnaissance of our walking itinerary for the next three days. He provided photographic guides to key decision points on the hikes which were very helpful and gave us a wealth of other printed material about the history and sights in Hermanus. The Fernkloof hike was beautiful with lots of bird activity. Malcolm accompanied us from the hotel to the start of Elephant Path We travelled the contour path and then took the red route to the waterfall before heading to the visitor center where we walked down to the cliff path and strolled from Kwaaiwater to Auberge Burgundy. We had an excellent dinner at Lemon Butta and enjoyed a magnificent sunset over the ocean from our dinner table. The contour hike to Voelklip was lovely and cool with lots of birdlife and evidence of baboon activity, although we never saw baboons. We concluded the hiking by completing the cliff path from the milkwood forest to Kwaaiwater where Malcolm picked us up and returned us to the Auberge Burgundy.

Andries had arranged for an addition to our itinerary. We drove to Kleinbaai for Shark Cage Diving where we spent a fun and exciting day on the water and in the water with six sharks – awesome fun! We had a marvelous late afternoon dinner at Lizette's Kitchen where we bumped into Malcolm riding his bicycle to the beach for a swim. Bottom line – as the title suggests, we enjoyed every day immensely with very few glitches. We received far more support and personal attention than we had expected.

Cons – We had a few points of confusion regarding the hiking instructions and will offer improved instructions separately. Our arrangements on Day 12 had to be altered as many itinerary items were closed on Monday. It seems this could have been anticipated. Andries informed us of changes in his daily updates and we did have alternative arrangements. The route guide was not completely personalized. In some places, the maps had been reused from other or earlier itineraries and were not completely correct. Cape Town is not completely safe for tourists on the walking routes we were recommended. Future clients should be advised to take precautions while walking within the city.
Recommend- Yes
Franschhoek Divas (Group of 20 ladies)
4 days- Franschhoek Valley Walk- March 2015
Translation of comments by the organiser, Cora Nel, 25 March 2015 https://www.facebook.com/walkingholidays.co.za/
Thank you Andries for a wonderful experience! The Divas enjoyed it tremendously. Some highlights were the Cats Pass which tested our endurance, the delicious gourmet restaurant and bubbly at Haute Cabriere, the wine blending and creation of our own "masterblend" at Rickety Bridge, the spectacular trail at La Motte and wine tasting at La Motte and Leopards Leap. It was an experience that we will always remember! I can recommend Franschhoek Valley Walk to anyone who loves wine, outdoors and scenery.
 Anthony Percival and Hunter Hogan
4 days- West Coast Walk- February 2015
Rating- 5- excellent

Description- fantastic
Pros- Enjoyable, Great accommodation, Great experience, Well organised, See my comments below
Cons-
Best uses- Trying something new
I am- World traveller
Comments- Andries is a superb organiser. Every last detail was well taken care of. Nothing was ever to much trouble. Always on time and made all our dinner reservations. The walk beautiful and hiker friendly and very safe. I make a habit of writing reviews not always this glowing. What a pleasure to have someone really good,and make sure there product works. highly recommened
Recommend- Yes
Andrew and Amanda Hartley
4 days- West Coast Walk- January 2015
Andrew and I thoroughly enjoyed the whole of our trip to South Africa and it ended beautifully with the fabulous walk where my favourite place had to be Paternoster.

We started at Oystercatcher Lodge, which was very pleasant ( other than a creaking bed!).The evening meal at the local hotel was disappointingly average and maybe we could have driven somewhere else? However even though it was a grey day on the first walking day it was very exhilarating with the noise and spray from a lively ocean, and the rugged coast reminded us of our
holiday to Namibia. Finishing our days walk at Paternoster, a little gem -Especially as you said to stop off at the beach restaurant-a dangerous thing to do! What an amazing fish restaurant with great wine.

We continued a walk through the old fishing town, which sparkles against the ocean and arrive at the fabulous Gilpins Lodge, a thatched guest house with great hosts, a lovely room and tasty breakfast. We had 2 lovely days walking from there, both different, both HOT. Even though I am not an avid bird watcher, the variety was amazing. Walking on the sandy beach with triffid size seaweed or the vast shell beaches was great. We came across several barbque areas which were being tidied up but we came across very few people on our walk.
The last day took us to another picturesque place called Jacobsbaai and we finished at another lovely guest house. A fab time.

We go to Spain shortly where I shall give my friend your details, otherwise
I hope we shall have the pleasure of another of your walks next year, whoop woo!
Andrew and Tim Levett, UK
4 days- Cape Winelands Walk- Dec 2014
Comments- Firstly a huge thanks to Andries who organised everything to perfection and bent over backwards to accommodate all our requests.

We did the 4 day Cape Winelands. The first day of walking (Day 2 in the itinerary) was adapted for us so that we could also climb West Peak (1000m and 6 hours walking. Andries organised us a guide and the walk provided beautiful views over the Cape and satisfyingly challenging. I think the normal itinerary for day 2 without the climb would have been short and dull.

Day 3 of the itinerary was fantastic. Incredible scenery, good variety of flat and climbing and we had the path to ourselves. It took us around 4.5 hours to complete. Finishing at Dornier wine estate for lunch was a real treat.

Day 4 of the itinerary was a bit of a let down. The path zig zagged along roads and dirt paths close to Stellenbosch. Because there was very little climbing and the route stayed close to the town it never really provided any interest. As a result we chose to tag on a climb up one of the smaller hills around Stellenbosch. What's more, it only took us 2 hours to walk. We spoke to Andries about this who took our feedback on board and indicated that he was formulating other days hikes from Stellenbosch as alternatives.

Overall, we had a fantastic time and would highly recommend the trip. If you are a fit and ambitious hiker it is worth talking to Andries in advance to tailor your itinerary accordingly. Recommended.

A short note on the two hotels – both was excellent
Recommend- Yes

Overall rating- 4- very good
 Ute & Reinhard Haenisch, Namibia
4 days- Cape Winelands Walk- November 2014
Just to let you know that we are safely back in Windhoek. Thanks again for exceeding our expectations and for making this experience successful and unforgettable for us!
Have a look at the amazing panoramic picture taken from the top of the mountain.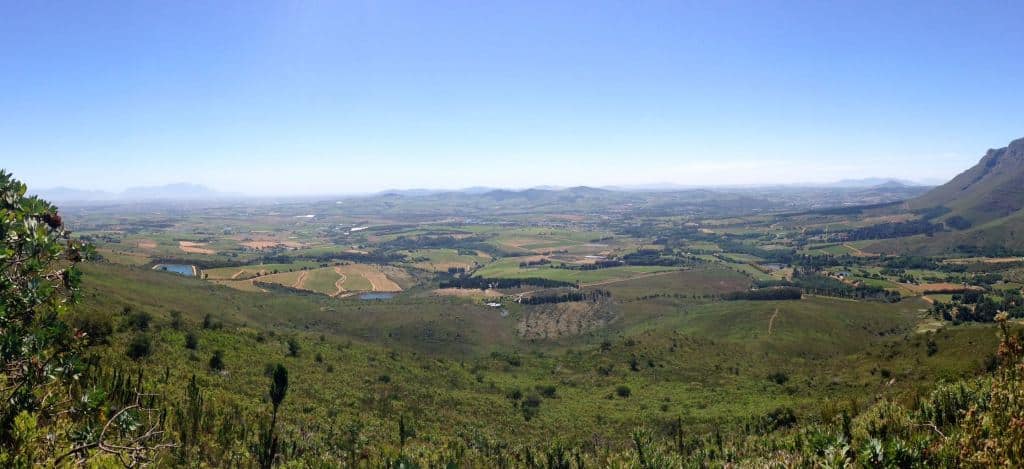 Botha Group, South Africa
4 days- West Coast Walk, Oct 2014
Hiermee om jou te bedank vir 'n heerlike en uitstekende stap.

Julle het 'n puik produk wat nog 'n groot aanvraag gaan raak in die toekoms.
Martin Martins, South Africa
4 days- West Coast Walk- June 2014
Personally found second day (1st walking day) too long. Feel it should be divided into two days, respectively 10 and 12 km. Saw very pristine stretches of beach that is only possible on foot. All in all it was a very enjoyable experience, one which we will definitely do again. Thank you Andries for all your personal attention and organising. Much appreciated.
Hennie and Xandra du Plessis, South Africa
4 days- Cape Winelands Walk- April 2014
Dit was n baie spesiale belewenis en ons het dit vreeslik geniet. Baie baie dankie vir die moeite en al die reelings.
Auret and Jill Kernick, Johannesburg
4 days – Cape Winelands Walk- March 2014

Expectations were surpassed – the area is pristine. It varies from remote wilderness to farm to town, with some world class restaurants thrown in and warm hospitality all the way. Andries saw us on our way and looked after us, even facilitating our doing the last days walk a day late to bypass some bad weather. We cannot recommend the walk highly enough.
Karen and Andrew Shewbart, USA
8 days – Cape Winelands Walk and Franschhoek Valley Walk- Feb 2014

Our walk through the Cape Winelands was magnificent.  The holiday plan arranged by Walking Holidays exceeded our expectations in terms of beauty, convenience, and service.  The walks selected for us were challenging, but enjoyable; exactly what we wanted.  The special attention provided by the staff, specifically Andries, made the journey all the more memorable.  I would highly recommend anyone interested in exploring the natural beauty of South Africa and the first-rate wine and cuisine this area has to offer book a holiday with this outstanding outfit.
Carol Hagemann-White, Germany
21 days – Cape Town Walk, Cape Winelands Walk, Franschhoek Valley Walk, Hermanus Walk, Kogelberg and Cape Town guided tour- Dec 2013
It was altogether a wonderful walking holiday and, at the same time, introduction to South Africa. Some highlights were: the hike up Table Mountain; all of the walks with expert guides that truly enriched our experience, but especially the walk with Isak; the high quality and personal hospitality in the guest houses (Klein Bosheuwel was a perfect starting point with Tim's hospitality as well as the beautiful surroundings!); walking the contour paths in Helderberg mountain and in Hermanus, and of course so many excellent meals in different restaurants that I couldn't list them all.

It was quite a new experience to be "taken care of" throughout the trip –in Europe, where self-guided walking has a long tradition, the tour organizers send detailed information in advance, including arrangements to have the luggage transported from place to place, but once you begin your holiday, you are on your own. The assumption is that, if you wanted a local guide you would have booked a group tour. So it was quite unexpected, but extremely helpful and a great pleasure, to be met and guided by you, Izak, Hans, Andreas and Malcolm, including very enjoyable conversations as well as useful help. We were particularly impressed that you and Malcolm had actually gone up and marked the path at the end of the second Fernkloof walk with red dots and stone beacons (so it was very easy to find!).

We also thoroughly enjoyed the two-and-a-half day private tour with Jo; it gave us an excellent overview as well as "winding down" from the walking. We ended the trip on our last day with a long, long walk along the beach in Milnerton.

Overall, nothing went wrong or caused us any Angst or distress.
Hugh and Sue Drummond, Pietermaritzburg
Cape Winelands Walk- 7 Nov 2013
We had a wonderful and memorable time, it's a pity we had to cut short the third day, but as it happens the timing with the weather was perfect.

The opportunity to see the flora and the scenery was very special for us, and I think that the time spent with Andreas definitely added value to the experience for us. The whole trip, from Somerset West through Lourensford over the Helderberg and into Stellenbosch is hard to beat anywhere in the world, and you may use this as a reference to all who may enquire. I would like to say a special word of thanks to you personally for your help and your readiness to go the extra mile to make our trip so successful.

Andries your passion for this hike is to be commended- Sue
Danika Marquis, Grahamstown 

Cape Winelands Walk- Dec 2012
My husband and I have 'slack-packed' in the wine regions of France and Chile before, and wished we could find something similar closer to home, but never found the time or the right guide. It was serendipitous that Women & Home's article "Do More of What You Love", which showcased a walking holiday in the Cape Winelands, came at during a very stressful time in my life. It was, in fact, my husband who was inspired by Women & Home to take me on a walking holiday – he was looking for ways to help me de-stress and help us reconnect after a tough year.

The experience itself was magical. We chose a 4 night – 3 day walking tour through walkingholidays.co.za, which started in scenic Somerset West and ended in historic Stellenbosch. We were greeted at Erinvale Estate Hotel by a complimentary bottle of wine and our guide, Andries Liebenberg, who gave us our guidebooks and instructions.

The first day of walking, which was around 10km in total, took us through a guided tour of the Helderberg Nature Reserve, where our guide showed us the different flora and fauna that we could expect in the following days of walking. In the afternoon, we headed off to two of the local wine estates – Lourensford Estate for chocolate and wine tasting after lunch, and then Vergelegen with its colourful history. It is hard not to feel like Elizabeth Bennett entering Pemberley when walking across the expansive grounds of Vergelegen, with its avenues of trees, octagonal garden and beautiful estate house. I briefly wondered whether we would reach the wine tasting before dark, which we fortunately did, but I wish that I had given myself an additional two-hours to explore the grounds and historic buildings.

The second day of walking was a fairly challenging, but breath-taking, 20km walk over the Helderberg Mountains from Lourensford in Somerset West to Dornier Estate, just outside Stellenbosch. The paths were good and the views along the walk were spectacular. The best view was at the picnic spot set at the highest point of the climb. At the end of the walk, another wine tasting and a comfortable stay at the Dornier's Homestead (which was designed by Sir Herbert Baker) awaited.

On the third day, we had to contend with a freakishly strong South Easterly wind that had blown down a dozen or more trees along the route, making it difficult to walk along the designated path. We therefore opted to drive the final part with our guide, who took us to another wine tasting and then through to Stellenbosch.

Overall, the holiday was invigorating and Andries Liebenberg at walkingholidays.co.za was a superb guide and made our trip very special. Thank you Women & Home for the inspiration!

*Slack-packing is essentially backpacking for people who like adventure but really like comfortable beds, decent meals and warm baths. Otherwise put, it is walking holiday where your luggage is transported by a 3rd party to a 3 – 5 star B&B each night, as opposed to contending with sleeping bags, tinned food, cold showers and walking with a heavy backpack. Sorry, I tend to ramble a bit, but it was a fantastic experience.
Woman and Home –Article in the Nov 2012 issue :
Do more of what you love….Daycations and more
Enjoy a walking holiday along the Cape Winelands with overnight stops in fab accommodation along the way, and your bags transported ahead.The seven-day 100km walk from Somerset West to Stellenbosch takes you through exquisite wine estates and nature reserves to scenic country roads. From R5 880pp; October to March is best, as the weather is more predictable.

Gillan and Susan, Vancouver 
Cape Winelands Walk– Feb 2012
Dear Andries, Thank you so much for sending those lovely photos of us and the leopard. Susan will enjoy them too, I know!She emailed me on her safe return to Canada but that was before you sent the pictures.I will check with her that she got them.Thank you also for your kindness to us during our trip – you certainly went out of your way to make the whole time memorable and we appreciated the "extras" very much.I have given your name and email address to a friend who is keen to know more about the hike and she will be contacting you soon.Her name is Anja Sandeman, and either she, or her colleague/friend will be contacting you for more information.Keep well and thanks once again!Best wishes,Gillan Bowie
Robert E Manning, Burlington, USA
Cape Winelands Walk– Dec 2010

I wanted to tell you how much Martha and I enjoyed our Cape Winelands Walk in December.  We found the history and culture of the wineland region to be fascinating – our visits to the beautiful and impressive Lourensford and Dornier Wine Estates were highlights of the trip.  And the historic town of Stellenbosh, with its stately oaks, impressive university, and lively downtown, made for a great place to stay.  The walk also had an appealing "wild side" to it – the impressive Hottentot Holland Mountains, the biologically rich expanses of fynbos vegetation, and the Jonkershoek and Helderberg Nature Reserves.  We genuinely appreciated your attentiveness to our every need.  As you know, Martha and I have had the privilege of doing walks all over the world, and the Cape Winelands Walk is one of our favorites.  We're recommending it to our walking community in the States.Thanks again for everything you did to make our walk so special!
Steve and Kristenne,UK

Cape Winelands Walk– Aug 2010
General
Fantastic walks, wines and accommodation

Great private paths
Comments per sms to the Route Manager, at the end of 2 of the days:
Another great day yesterday, fantastic views from mountain, off to nature reserve soon

We had another good day today the van Zyl's (Kierie Kwaak) looked after us very well and we are now warming up at Rozendal
Joanna, Cape Town 

Cape Winelands Walk- 7 Apr 2010
We found the directions easy to follow but were tempted on walking straight over the mountain, but realized for tourists who don't know the mountain, it may be quite risky.
The cement table and chair on top of the mountain is an attractive feature.
The guest house in Blaauwklippen Valley was beautiful. It was great to have a swimming facility.
We really enjoyed this hike. Very easy to follow directions. The views from Square Tower North over Jonkershoek, Pniel, Boschendal, Simonsberg etc were amazing, we could see right through to Lions Head and Signal Hill.
Guest house in Jonkershoek was lovely with very good breakfast.
Review a holiday
Rate hotels/Guest houses
Go back to the top of the Reviews page