Cape Winelands Cycling
The Cape Winelands Cycling holiday is a 5 day carefree, self-guided cycling tour offered by WalkingHolidays.co.za. This is an opportunity to discover the area around Franschhoek, Stellenbosch and Somerset West in style. This area is regarded as one of the most beautiful parts of South Africa, with distinctive and spectacular countryside, world class wine estates and cuisine. TripAdvisor listed Franschoek in 2014 as one of the top three destinations in South Africa.
Holiday summary and index for details
Holiday Summary

Holiday Details


Go to Index on right for Holiday details

Click to view

Type

Self-guided cycle

Overview
Location

Franschhoek-Somerset West

Highlights
Group size

1+ people

Price
Duration

5 nights

Itinerary
Difficulty

Easy/Moderate grade

Accommodation
Day Stages

35/45 km

Attractions
Distance

About 160 km (5 days)

Travel info
Terrain

Country roads

Map
Hotels

4 star Guesthouses

Gallery
Meals

Breakfast each day

Reviews
Cost

From R7 675 per person

Area info
Dates

Oct – April is "High season"
Holiday overview
This is an opportunity to experience the Cape's finest wines while discovering the natural beauty of the Cape Winelands countryside, Wine Estates and historic towns. Sample renowned wines straight from the cellar and dine in some world class restaurants. Enjoy excellent accommodation, making this a trip to remember.
Your cycling adventure begins in the historic town of Franschhoek, known as the food and wine capital of South Africa. From Franschhoek over Helshoogte to Stellenbosch,the second oldest town in South Africa. Explore the Jonkershoek Valley and Nature Reserve, as well as estates in the Blaauwklippen Valley. The final destination is Somerset West where the historic Vergelegen- and Lourensford Estates will provide some of the highlights.
Your cycling holiday in the Cape Winelands includes four days of easy to moderate cycling. The route follows quiet roads, where possible. The daily distance is between 35/45 km (about 3/4 hours cycling). Cycling in the Cape Winelands is recommended at any time from spring to autumn.
Summer days can be hot.
The cycling holiday in the Cape Winelands includes five nights accommodation in four or five star Guesthouses/ hotels, five breakfasts, baggage transfer, welcome meeting on arrival, a comprehensive information pack with directions, detailed maps and suggestions of places to eat, things to do and local detail not accessible to passing visitors.
 Cycle highlights
| | |
| --- | --- |
| Mountains | Stunning views of the Hottentots Holland- , Helderberg, Stellenbosch- and Franschhoek mountains |
| "Fynbos" plants and wildlife | The Cape Floral Region is the smallest but richest of the world's 6 floral regions- with no less than 9,000 species. It has been identified as one of the world's 18 biodiversity hot spots. |
| Nature Reserve | Experience the beautiful Jonkershoek Nature Reserve |
| Views | Franschhoek Valley, Gordon's Bay, Strand, Somerset West, False Bay, including Cape Point, Stellenbosch  & the Cape Peninsula |
| Wine estates | Arguably some of the most beautiful wine estates in the world, with history dating back to 1700. Larger cellars offer organised tours and tastings and their own restaurants |
| Accommodation and restaurant options | 4 or 5 star hotel or guesthouse with prize winning restaurants.Franschhoek alone has 36 restaurants, and 4 South African 5 star chefs continuously offering world class cuisine. |
| Historic town | Discover South Africa's second oldest town – Stellenbosch. Explore Franschhoek's interesting French connection. |
Price and dates
Choice of Standard or Superior accommodation. The price of our package also depends on availability. For the Standard option our rate is from R7 675 per person, sharing (R9 560 from 1 Sep 2016).  The rate for the Superior package will be quoted on request. During low season (May-September) the holiday may be available at a reduced rate.
The Superior package will consist of 5 and 4 Star accommodation. The Standard package offers 4 Star accommodation.
Costs for an extra night – standard and superior accommodation available – on request.
 Included
5 nights accommodation in selected guest houses including 5 breakfasts. Our detailed route notes and description allow you to ride independently and at your own pace amid splendid scenery while we transport your luggage.
Not Included:
Flights
Bicycle rent
Transport to the guest house/hotel of the first evening and from end of trail
Lunches, dinners, drinks with meals, wine tastings
Itinerary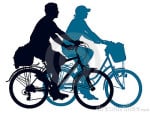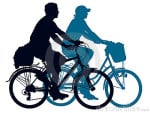 Day 1:
Arrive in Franschhoek
The Cape Winelands cycling adventure begins in Franschhoek – 70 km from Cape Town International Airport. Enjoy the village and interesting cafes and shops. Our local partner will meet you at your hotel in the evening for a brief welcoming meeting.
Overnight: Franschhoek Hotel/Guesthouse. There are a number of restaurants for Dinner- world class cuisine and wines.
Day 2:
Cycle Franschhoek area
You will ride through vineyards and country roads and can visit a range of interesting places, wineries and places to eat such as Mont Rochelle, La Brie, the Huguenot Monument and Museum, Haute Cabriere, Grand Provence, Rickety Bridge, Môreson and La Motte
Overnight: Franschhoek Hotel/Guesthouse – A variety of restaurants for dinner- world class cuisine and wines.
Distance 35-40 km – Whole Day.
Day 3:
Cycle to Stellenbosch
On your way from Franschhoek to Stellenbosch you can visit wine estates such as Solms Delta, Boschendal, Zorgvliet, Delaire , Tokara and Antonij Rupert Wines and the Franschhoek Motor Museum.
Stellenbosch was the first area in South Africa to establish a "Wine Route" and offers some very special estates for wine tasting.
Overnight: Stellenbosch Hotel/Guesthouse – A variety of restaurants for Dinner and wine.
The accommodation is ideally located in the heart of the town's historic centre. Explore the town
Distance 35-40 km – Whole Day.
Day 4:
Cycle to Jonkershoek Nature Reserve and Blaauwklippen Valley
Explore the Stellenbosch town, if you did not have time, the previous day. Spend the day cycling in and around some of the vineyards
Ride to Jonkershoek and visit the Postcard Cafe. Enjoy a delicious lunch and glass or two of wine before heading off to Blaauwklippen Valley via Lanzerac Hotel and Spa. Visit  Vriesenhof Wines, and Dornier Wine Estate.
Dinner & overnight at a guesthouse in the tranquil countryside between vineyards in the heart of the Stellenbosch area.
Distance 35-40 km  (or more, depending on options chosen in the Nature Reserve)– Whole Day.
Day 5:
Cycle to Somerset West
You can visit estates such as Stellenzicht, Bilton, Rust en Vrede, Ernie Els, Eikendal, Avontuur, Lourensford, Vergelegen and Morgenster.
Dinner & overnight: Erinvale Hotel (If available)
Located near the prestigious wine estates in a wonderful relaxed setting. This hotel has a Spa and other facilities to ensure you have a wonderful stay.
Distance 35 km – Whole Day.
Day 6:
Departure
 Difficulty:
Overall rating is Easy/Moderate. You do not need to be ultra-fit but certainly able to cycle  about 50 km per day and be able to cope with undulating countryside and some hills. See Cycling grades
Day 1 – arrival : Day 2 – Easy : Day 3 – Easy/Moderate : Day 4 – Easy/Moderate : Day 5 – Easy/Moderate
 Alternative/additional options
Your trip can be extended or amended to include additional activities. The costs of these options are not included in the price of the standard trip. Available on request.
Cycling
Transfer can be arranged to Hermanus for an additional 3 days' cycling in a coastal environment.
Walking
Additional days can be booked to explore Franschhoek Village and the historic Stellenbosch town on foot if there is not enough time to discover the unique history, culture and heritage while cycling.
Accommodation:
Stay at some of the finest hotels and guesthouses in the area and visit restaurants serving mouth-watering international cuisine.
A variety of different establishments have been selected – all subject to availability. Non availability may result in a price amendment.
Click on pictures to view the high standard of accommodation:
Wine Estates
You will visit award-winning wine estates famous for their wine and unique offerings. Some examples below.
 Travel information
 When to Go:
The best months are from beginning of October to end of April (high season). Start on any day. Reserve early to obtain the best rooms. The route is also available during low season at a reduced price. Please contact us for details.
 Climate
Weather in the Western Cape Coastal region is mild Mediteranean.
Summer – mild pleasant evenings, can be very hot and dry during the day in late Summer
Winter – very cold evenings, cold to mild days
Rainfall (mostly in winter) can exceed 1 500 mm (60 inches ) per year.
Getting there:
Franschhoek is 70 km from Cape Town International Airport. Private transfers and rates) available on request.
What to take:
Wearing a helmet while cycling is mandatory and bicycles need to be equipped with basic repair kit. These items can be provided with bicycles rented via us. Bring your own if you prefer so.
It is important to be comfortable when cycling. The best is to wear thin layers of clothing. Fast drying and hard-wearing synthetic fabrics are ideal as a base layer. These allow your skin to breathe and wick the moisture away from your skin to the next layer, avoiding the chill which cotton T-shirts can cause.  A thin fleece or sweatshirt is ideal as the next layer. Also take a lightweight waterproof jacket (breathable and windproof material is best). Sport shoes are fine for cycling and for when you stop off to visit places on foot.
For your daily needs, you are advised to have a day-bag, a plastic bag to line your day-pack (to protect the contents from rain), sunglasses, sun block, a water bottle, plastic picnic box (for transporting lunches), first-aid kit, camera and an extra plastic bag for litter.
Insurance:
It is recommended that appropriate holiday insurance is arranged with cover for illness, injury, and loss or damage to luggage. This insurance should also cover the possibility of any cancellations.
 Availability and booking
To reserve a date, forward : Availability request
To book -Go to How to book ,or
email: info@trailsandtravel.co.za
Tel.: +27 (0) 21 852 5937, Fax.: +27 (0) 86 618 3448
Map of the area
Gallery
View Franschhoek Valley Gallery, and
Reviews
Comments by guests who have experienced a self-guided walking/hiking holiday offered by WalkingHolidays.co.za in South Africa-
"Overall, the holiday was invigorating- You certainly went out of your way to make the whole time memorable- We are recommending it to our walking community in the States- Fantastic walks, wines and accommodation"
For details go to Reviews
Cape Winelands area information
The Cape Winelands Cycling holiday is an opportunity to experience breathtaking Cape Winelands scenery, world class cuisine and accommodation. To read more about the area, go to:
Cape Winelands (Somerset West and Stellenbosch)